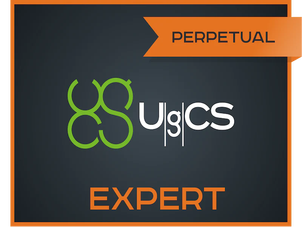 UgCS Expert perpetual
UgCS EXPERT license is designed for professional drone pilots flying with LiDAR sensors. It comes with all the features of UgCS PRO as well as the new toolset for LiDAR surveys.

Discover why UgCS EXPERT is the top choice for professional drone pilots and LiDAR surveyors around the world.

Features of UgCS EXPERT for LiDAR surveys
LiDAR Area and LiDAR Corridor tools
IMU Calibration route pattern (figure eight)
IMU Calibration actions (figure eight, U-turn/J-hook)
LiDAR flight planning based on FOV value
Adjustable corner radius for smooth cornering and better data collection
Loop turns for additional IMU calibration
Adjustable LiDAR area buffer size
Other features of UgCS EXPERT
Plan flights with terrain following
3D flight planning interface
Offline maps (fly without internet connection)
Photogrammetry, Vertical (Facade) scan, Corridor mapping, SAR, Linear, Circle, Waypoint, Perimeter, Area Scan flight planning tools
Route import from KML/CSV data
DEM/DSM elevation data import from .TIF format
Preview flights with respect to terrain elevation profile
Automatic telemetry recording
Geo-referenced image import
Create custom no-fly zones (NFZ)
Custom map overlays
ADS-B Receiver support
Compatible with UgCS Mapper to process images and create map overlays. Discover »»»
Supported Drones
UgCS EXPERT LiDAR toolset is currently only compatible with DJI M300, M600, M2X0 (and other DJI) drones. Support for LiDAR toolset for other drones is coming soon!
UgCS supports most popular UAV platforms including DJI M300, M600, M2X0, Inspire, Phantom series, Mavic series; MAVLink-compatible drones (Pixhawk with ArduPilot/PX4). Discover UgCS supported drones and autopilots »»»
Compatible LiDAR sensors
UgCS EXPERT is not restricted to any certain LiDAR sensors only. Most sensors can be used as long as they are carried by a supported drone.
However, we are officially supporting the following LiDAR sensors / manufacturers - DJI L1, YellowScan, Phoenix LiDAR, RIEGL, LIDAR USA. GeoCue, Rock Robotics, GeoSun LIDAR, 3DT Scanfly, Topodrone, Balko Tech.
UgCS EXPERT perpetual license
Buy once, own forever
First year of support and updates is included
Starting from the second year, an annual Support & Update pack needs to be purchased to get access to support and the latest updates. More info »»»
Technical details
Installs locally on your computer
Compatible with Windows, macOS and Ubuntu 18.04
Android app UgCS for DJI is used to connect to DJI drones
Not sure if UgCS is right for you?
Request UgCS 14-day TRIAL More info »»»
Take a look at our How-to videos and webinars on YouTube More info »»»