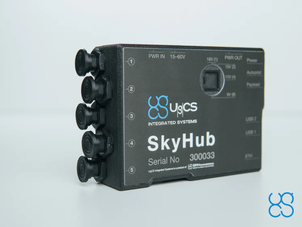 UgC SkyHub on board computer hardware
UgCS SkyHub is an onboard computer to log geotagged data from various sensors like GPR, altimeter, magnetometer, and methane detector.
Discover supported sensors of the UgCS SkyHub »»»
Download the datasheet of UgCS SkyHub »»»
HS Code: 90158020 (meteorological, hydrological, geophysical instrument)
Packaging information: 20х20х10cm, 0.6kg in cardboard box

UgCS SkyHub comes with mountings and cables for the selected type of drone.

Please note that there are no standard mountings for Pixhawk based drones and by default, if you select "Pixhawk" you will get the cable to connect SkyHub to Telem port of autopilot and mountings for M600 Pro drones as they are most universal. Please contact us if you need something different.