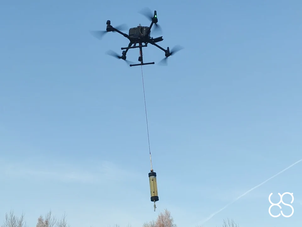 Water sampler bundle
Despite the rapid progress with different sensors allowing the analysis of water contamination, turbidity, etc. in-situ, water sampling for subsequent analysis in the laboratory will stay widespread in the foreseeable future.

Traditional methods require direct access to the water body and samples are gathered from the shore, pier, bridge, or boat. Acquiring samples at some distance from the bank without a boat or ship is impossible.

A remote sampling system fully integrated with a UAV solves this problem, allowing water sampling at long distances from the shore.

The system consists of:

Ruttner water sampler with volume 1L for DJI M300RTK or up to 5l for heavy lift drones.
Onboard computer UgCS SkyHub enables to control water sampling process in a fully automatic mode. Water sampling missions are planned and flown in automatic mode with UgCS.
Radar or laser altimeter for real-time altitude measurement during the flight to the sampling location where it is necessary to take a sample, and also to control the descent to the required altitude to take a sample from a set depth.
The only specific component developed for the water sampling system is the messenger release device.