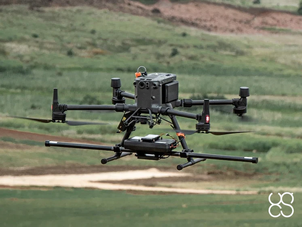 SENSYS MagDrone R3 magnetometer
SENSYS MagDrone R3 magnetometer
The MagDrone R3 is a ultra portable magnetometer to be attached to any UAV with a minimum payload of 1kg.
Recommended applications:
Searching for UXO (UneXploded Ordnance)
Locating buried infrastructure (metal pipes and shielded cables) and power cables under the load
Archaeology
Surveying for any metal objects weighing a few hundred grams or heavier lying underground
MagDrone R3 can be ordered with internal GPS receiver or with connector for the external GNSS receiver. Second option is recommended to achive better geotagging of the data, especially when R3 is used with UgCS SkyHub onboard computer and RTK-equipped drone.

Note, that general rule with magnetometer when it is necessary to detect artificial objects or artefacts - fly as low as possible. Recommended altitude for the tasks like UXO search - 1m above surface or even lower. That means that drone should be equipped with terrain following system (included in recommended magnetometer bundle).
Recommended drones to carry MagDrone R3: DJI M300 RTK, DJI M210, DJI M600 Pro.
What's in the set:
MagDrone R3 magnetometer with 2x triaxial fluxgate magnetic sensors, sensor bar and data recorder
MagDrone Data Tool software
11.1 V Li-Ion re-chargeable battery battery and wall charger (when used with UgCS SkyHub, power is provided from the drone)
USB cable to connect MagDrone R3 to Windows computer
USB cable to connect MagDrone R3 to GPS-out interface of UgCS SkyHub (for configuration with connector for external GNSS receiver)
Mounting plate and screws (used with provided Li-Ion battery)
Set of international power plugs
Manual
Transport hard case
Additional information:
HS Code: 90158020 (meteorological, hydrological, geophysical instrument)
Packaging information: 112 x 29 x 11 cm, 10kg in transport box.